Teacher Vacancy Task Force Overview
Task Force Final Report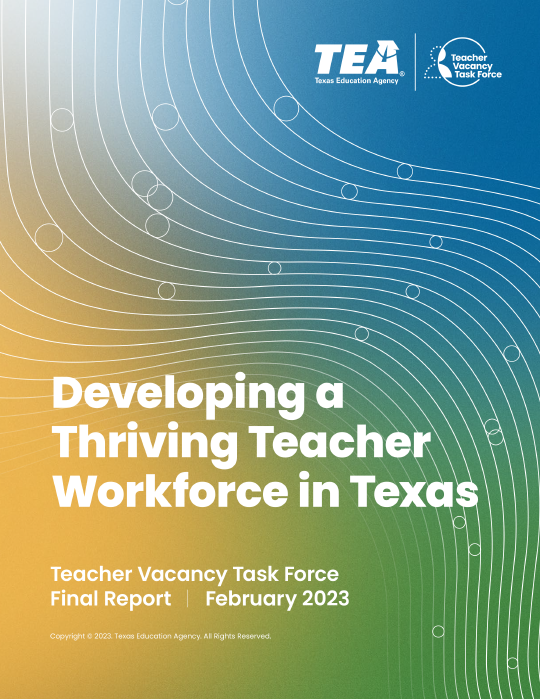 The Teacher Vacancy Task Force's (TVTF) final report, Developing a Thriving Teacher Workforce in Texas, includes policy recommendations to address teacher vacancies throughout Texas. 
Through examining research and evidence, considering the perspectives of educators across the state, and continuous stakeholder input, the TVTF developed recommendations focused on support for teachers in the key areas of teacher compensation, training and support, and working conditions. In order for these recommendations to be implemented and expanded, the TVTF recommends that they not only be offered as options for districts, but that additional funding be allocated at the level necessary for successful implementation.
The TVTF was established in March 2022 by Governor Abbott to examine teacher retention and recruitment challenges across Texas. The TVTF met from March 2022 to February 2023 with the primary objectives of understanding challenges school systems are facing related to teacher vacancies and developing recommendations for regulatory or other policy changes for the Texas Education Agency, the Texas legislature, and local school systems.
Task Force Regional Representation
Meeting Dates, Slide Decks and Notes
The Task Force met from March 2022 through February 2023, with Commissioner Morath and agency leadership regularly facilitating discussions with Task Force members, while including insights gathered from experts and additional education stakeholders throughout the State of Texas.