Human Trafficking of School-aged Children
Human trafficking is the recruitment, harboring, transporting, or procurement of a person for labor or services for the purpose of involuntary servitude, slavery, or forced commercial sex acts.  While human trafficking is a global problem, it is also a Texas problem.  School-aged children are vulnerable to the manipulation and exploitation tactics of traffickers. Unfortunately, law enforcement has confirmed cases of trafficking occurring on school grounds, at school events, and even carried out by classmates.
Traffickers are brutal, and victims are often subjected to serious, life-altering manipulation, and control through the use of threats of violence, physical, sexual, or emotional abuse, and withholding of basic necessities.  Many children do continue to attend school while being trafficked, and as such, are in contact with school personnel on a regular basis.  This means that because of your role as an education professional, you may be in a position to identify and report human trafficking, thus facilitating the child's rescue by law enforcement.
A Form of Abuse
 
Human trafficking is defined as a form of abuse or neglect under the Texas Family Code, Section 261.001.  All individuals have a duty to immediately report suspected abuse or neglect to law enforcement or the Texas Department of Family and Protective Services (DFPS), but Texas Family Code, Section 261.101, requires education professionals to do so within 48 hours of suspecting the abuse or neglect.  As a school employee, your training on abuse and neglect provides a foundation for you to recognize and report suspected human trafficking.
 83rd Texas Legislature

Recognizing the seriousness of the crime, its effects on victims, families, and communities, and the unique position of educators in the lives of children, the 83rd Texas Legislature passed House Bill 1272.  This law requires the Texas Human Trafficking Prevention Task Force (Task Force) to work with TEA to develop a list of key indicators that a person is a victim of human trafficking, develop a standardized curriculum, and train school personnel to identify and assist victims of human trafficking.
Texas RISE to the Challenge

Pursuant to the legislation, the Task Force, in cooperation with TEA, has developed a training to meet the requirements of HB 1272.  The training, Introduction to Human Trafficking for Education Professionals: Texas RISE to the Challenge, asks Texas education professionals to RISE to the Challenge in addressing human trafficking.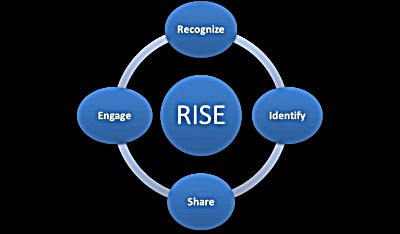 The Texas RISE to the Challenge training will provide school personnel with the tools needed to become familiar with trafficking, trafficker tactics, risk factors of children, indicators of trafficking, what to do when a child reports possible trafficking, and what steps to take if you suspect trafficking.
This training will empower education professionals to:
 Recognize risk factors and indicators related to human trafficking and
  
 Identify potential human trafficking victims and report as legally required.
It will also provide a foundation to:
Share knowledge with colleagues, parents, and community members, and
  
Engage in local prevention efforts. 
Training and Resources

Below is the Texas RISE to the Challenge training.  Also included is a human trafficking manual for school personnel developed by the Task Force.  Additional resources may be available in your area.
1)    Introduction to Human Trafficking for Education Professionals: Texas RISE to the Challenge (PDF, 2193 KB) 
2)    Introduction to Human Trafficking: A Guide for Texas Education Professionals (outside source)
3)    Human Trafficking Power and Control Wheel (outside source)
4) Identifying and Reporting Suspected Child Abuse, Neglect, and Human Trafficking Requirements Checklist  (Disclaimer: The correct effective date for superintendent training is September 1, 2019.)
The purpose of this module is to assist and equip educators in meeting the training requirements for the Commissioner's Rule (TAC §61.1051) on reporting Child Abuse, Neglect, including Trafficking of a Child. Each district and open-enrollment charter school must maintain records that include the name of each staff member who participated in training (TAC §61.1051).  It is the responsibility of the LEA to track the participation and completion of this training module locally.
Human Trafficking in America's Schools - Released by the U.S. Department of Education, this guide helps school officials: understand how human trafficking impacts schools, recognize the indicators of possible child trafficking and develop policies, protocols, and partnerships to address and prevent the exploitation of children.
 U.S. Department of Health and Human Services, Administration of Children's and Families, Children's Bureau:
Sex Trafficking in Schools - https://cbexpress.acf.hhs.gov/index.cfm?event=website.viewArticles&issueid=166&articleid=4465
 Reporting
Identification of possible human trafficking is important, but subsequent reporting is crucial.  If you suspect a child is a victim of human trafficking, please contact:
911 in case of emergency
Local law enforcement, or
DFPS at 1 (800)-252-5400