Special Education
Special Education in Texas
Together, we are committed to high expectations and strong systems that achieve equitable outcomes for every student with a disability.
Special Education Strategic Plan
Click on each circle below to learn more about each section of the Special Education Strategic Plan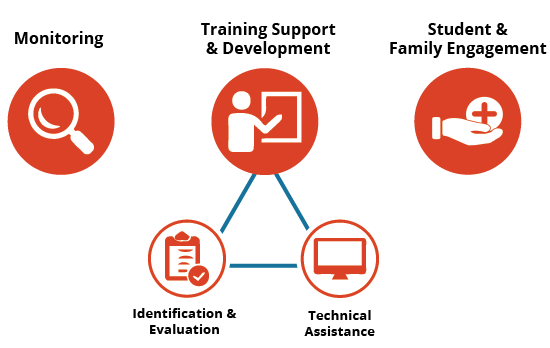 Get Involved 
Explore Our Work
TEA is committed to providing families, students, and schools with high quality supports to enable students with disabilities to achieve the highest outcomes. The links below lead to information and resources provided by TEA toward achieving that goal. 
Contact Information
Special Education or IEP-Related Questions?
Consult SPEDTex, the Texas Special Education Information Center. This is a resource backed by TEA to inform and support parents, teachers, and anyone committed to the success of children with disabilities.

Phone: 1-855-SPEDTEX   (1-855-773-3839 ) 
Website: www.spedtex.org  
Office of Special Populations and Monitoring, Department of Special Education
Monday-Friday (8:00 AM to 5:00 PM)
Phone:(512) 463-9414
Fax: (512) 463-9560
Email: sped@tea.texas.gov