Catching Up After the Storm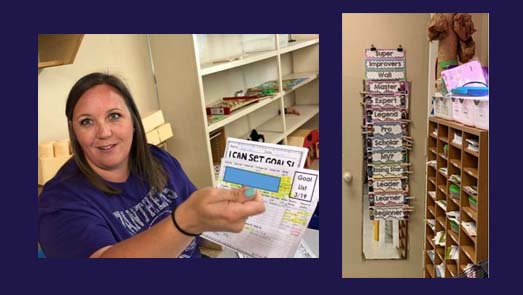 After the devastation of Hurricane Harvey, the first day of the 2017-2018 school year for Aransas Pass ISD was seven weeks later than originally scheduled. This delay created a major challenge for teachers. "Are we going to be able to achieve everything we need to for this school year?" asked kindergarten teacher Naomi Nobbie.
Even though they started school far later than planned, Nobbie devised a plan to help her students catch up academically. Instead of spending time on material that students may have already mastered, Nobbie implemented SMART (Specific, Measurable, Attainable, Relevant and Timely) goals for the first time in her classroom to help her students meet their individual needs.
Every kindergarten student created and began working toward individual goals centered around standards like sight words, shapes and number concepts. Each time a student met a SMART goal, he or she moved a clip up on the class goal tracking chart and started on the next goal.
Progress reports were sent home for each kindergarten student so that parents would know how their child progressed over the year. "My students not only helped to rebuild their community, but they also worked hard to catch up with other kindergarten students across Texas," Nobbie said. "They worked very hard toward their SMART goals and this strategy has helped identify one way to close the achievement gap in the classroom." #IAmTXEd @AransasPassISD