Restorative Discipline Practices in Texas
Restorative Discipline Practices (RDP) in Texas began in the Fall of 2015. The Texas Education Agency partnered with the Institute for Restorative Justice and Restorative Dialogue at The University of Texas at Austin School of Social Work to participate in a statewide roll out.
A grant provided training to ten of the twenty education service centers and school districts in Texas. The first ten service centers were selected based on the number of African American males that were suspended from the school districts in their regions. The training occurred in two parts. The first part included a two-day administrator readiness training, the second part a five-day coordinator training. The remaining ten regional service centers will receive the same training.
The goal is to plant the restorative discipline practices seeds across Texas. 1,400 administrators and 400 coordinators obtained training as of the fall 2016.
The Texas Definition of Restorative Discipline
Marilyn Armour, Ph.D., defines restorative discipline as a relational approach to building school climate and addressing student behavior. The approach fosters belonging over exclusion, social engagement over control, and meaningful accountability over punishment.
An overview of Restorative Discipline Practices in Texas training is available on the Texas Gateway at https://www.texasgateway.org/resource/restorative-discipline-practices-texas.  
RDP Fidelity Continuum Scale (FCS) & Data Collection Sheet
Get Recognized for your work! Complete the FCS and Data Collection Sheet between January 1, 2020 through May 31, 2020 to be considered for our RDP Badge below. To receive a link for the FCS, please email RDP@tea.texas.gov. 
Once the FCS and the Data Collection Sheet are submitted for one or more semesters, the information will be reviewed. Upon verification, the school will be considered for a RDP Badge for the campus.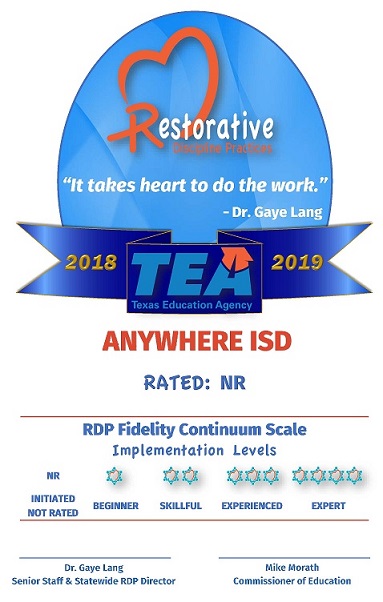 The RDP Implementation Fidelity Scale is a tool for school districts and campuses to use as a guide.
RDP Implementation Fidelity Scale (PDF)
Lesson Plan for Circles
An introductory training in the basic principles, values, and processes of Restorative Discipline Practices and interventions in school settings is necessary to build community and for responding to challenging, behavior through open dialogue, coming to an understanding, and opportunities to set things right. After you have attended training for Restorative Discipline Practices and have an understanding of the circle process and how to facilitate circles, this sample lesson plan will assist you as begin to experience circles in your classroom with your students.
Restorative Practices at Home - Resources for Parents.
I Message and Respect Agreement are available for parents to assist in implementing RDP in home learning.
Campuses Earning the RD Badge of Distinction for a Restorative Campus
They have attended the training, successfully implemented the process, and implemented the data to receive the RD Badge of Distinction.
| District | Campus | RD Coordinator | Rating |
| --- | --- | --- | --- |
| Athens ISD | Central Athens Elementary | Jake Shirley, RD Coordinator | Beginner  |
| Houston ISD | Robinson Elementary | Aretha Franklin-Burleson, RD Coordinator | Skillful |
| Anahuac ISD | Anahuac Middle | Ryan Roecker, RD Coordinator | Skillful |
| Hurst-Euless-Bedford ISD | Lakewood Elementary | Cameron Ramirez, RD Coordinator | In Progress |
| Keller ISD | Chisholm Trail Intermediate | Kimberly Fleischer, RD Coordinator | In Progress |
| Eagle Mountain-Saginaw ISD | Ed Willkie Middle | Danny Knowles, RD Coordinator | Beginner |
| Ysleta ISD | East Point EL | Maria McNulty, RD Coordinator | In Progress |
| Robstown ISD | Lotspiech Elementary | Angel Lopez, RD Coordinator | Beginner |
| Robstown ISD | Robert Driscoll Elementary | Manuel Lunoff, RD Coordinator | In Progress |
| Robstown ISD | San Pedro Elementary | Laura Cueva, RD Coordinator | In Progress |
| Robstown ISD | Seale Jr. High School | Maribel Trevino, RD Coordinator | In Progress |
| Robstown ISD | Ortiz Intermediate | Anisa Chavera, RD Coordinator | In Progress |
| Robstown ISD | Robstown Early College High | Sylvia Romero, RD Coordinator | In Progress |
| Beaumont ISD | West Brook High School | Dr. Diana Valdez, Principal | Beginner |
Stand-Alone RDP Training Sessions
RDP Stand-Alone Training of Trainers is FREE but limited to 40 participants per session. If there are vacancies in the session you select, your registration form will be accepted and a confirmation notice sent via email within 48 hours. CPE Credit will be given for attendance. The training is offered to employees of public schools and charter schools and Communities in Schools (CIS).
NOTE: Two to three registrants per school district will be allowed to attend training. Each individual should register using their own organization email address. If a registrant has not attended Administrator Training, but will attend the Coordinator Training they should secure a copy of the RDP Training Resources.
All sessions will be held at the Texas Education Agency from 8:00am-5:00pm. Lunch is not provided. These are some hotels near the William B. Travis building.
2020 RDP Training Dates
The Administrator Training is an overview of restorative discipline practices and training for Tier I Circles.  Currently, there are no training sessions open.
The Campus Coordinator Training centers around Tier II and Tier III Circles. Currently, there are no training sessions open.
NEW - Early Childhood Workshop (Click external link to register online.)
A prerequisite for attending the Fidelity Continuum Scale Workshop is prior attendance at the TEA stand-alone training of BOTH the TOT Administrator Training AND TOT Coordinator Training. Currently, there are no training sessions open.
2019 RDP Training Photos
Additional training photographs may be viewed in the Restorative Discipline Practices photo album on Flickr (external link). 
RDP Training Participants March 2020
RDP Training Participants February 2020
RDP Training Participants January 2020
RDP Training Participants November 2019
RDP Training Participants October 2019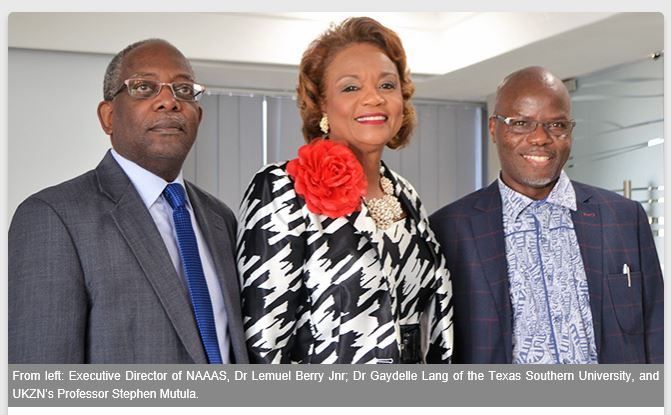 RDP Presentation in South Africa in partnership with the University of Kwazula-Natal. Dr. Lang introduced keynote speaker Dr. Matula
Contact Information
Texas Education Agency
Department Innovation and Charters
Dr. Gaye Lang
(512) 463-2023
RDP@tea.texas.gov