What They Need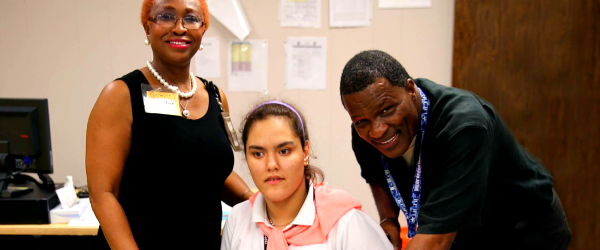 Thanks to teachers like special ed instructor Anderson Thompson III and blind/deaf intervener Gloria See, Harris County Department of Education's Academic and Behavior Schools are able to provide trusted and enriching learning experiences for students with intellectual or developmental disabilities.
This is the case for 18-year-old Angelica Garcia. Garcia suffers from auditory, visual and orthopedic impairments and has attended various schools to find a place that meets her needs. Her parents eventually enrolled her in HCDE's AB School West in February 2016 and her family has already seen tremendous progress.
"Angelica is visibly happier since attending AB School West and looks forward to going to school every day," says her mother, Yoahanka.
At AB School West, Garcia works daily with both Thompson and See. Operating as a team, Thompson handles most of Garcia's instruction while See works as her eyes and ears to connect Garcia to the classroom and her peers.
Thompson and See use direct instruction with Garcia, a teaching approach that is skills-oriented and teacher-directed. This approach emphasizes the use of small-group, face-to-face instruction using carefully articulated lessons in which cognitive skills are broken down into small units.
This kind of specialized attention and care in the classroom creates an enriching learning environment for Garcia, as well as for the 83 other students who attend AB School West. What makes the school unique is that each student has an individualized learning plan. Class sizes are small, with a 5-2 student to instructor ratio. Students range in age from 5-22 and are placed in age-appropriate classes.
"The atmosphere of the school creates opportunities for student success," explains Thompson. "Because we work with smaller groups of students, we can engage them and provide them with the attention they need. They feel a sense of accomplishment here." #IAmTXEd Harris County Department of Education