Music As Medicine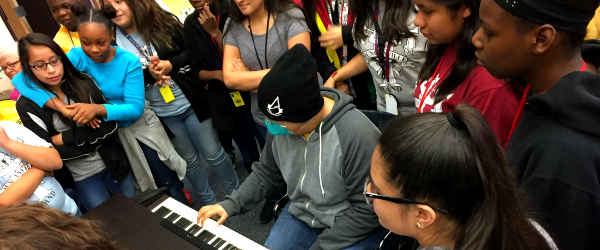 Reed Middle School band director Michelle Hanegan doesn't allow anything to come between her students and a quality educational experience. Student Angel Nuncio is one of the best musicians in the Reed Middle School band. In 2015, he was the only seventh-grade saxophonist to make the All-Region band. However, at the end of the school year tragedy struck: He was diagnosed with bone cancer, and his life changed forever.
Angel had to stay home those final weeks of school. He had surgery to remove cancerous bones in his leg and knee. He now endures cycles of chemotherapy, which leave him weak and prone to infection. Angel described feeling isolated and saddened that his doctors restricted his time playing the saxophone. His parents, knowing how much Angel loves music, purchased the 14-year old an electric keyboard so he can continue pursuing his passion.
"Even though I get so tired, most of the time when I feel energetic, I play my piano," Angel said.
When Hanegan realized he wouldn't be coming back for the first day of school, she created a plan to keep Angel involved with his band class. She encouraged his friends to write him letters to be sent home.
"He's very close to his band family," Hanegan said. "The whole Duncanville band family is a huge support system for each other. That is a really special thing about our district."
When he's feeling up to it, Angel participates in band class via live video chat to hear his classmates rehearsing. Ms. Hanegan and some other members of Reed's staff also created yellow t-shirts supporting Angel, which they've sold to raise money to go toward the family's medical expenses.
Because of his ongoing treatments, Angel's mother, Julia Carrillo, expects her son to be homebound until at least May—but she believes his relationship with music is especially therapeutic.
"I know the medicine is helping him to get better," Carrillo said. "But being connected to his friends and the music helps too." #IAmTXEd  Duncanville ISD