Birthday Conundrum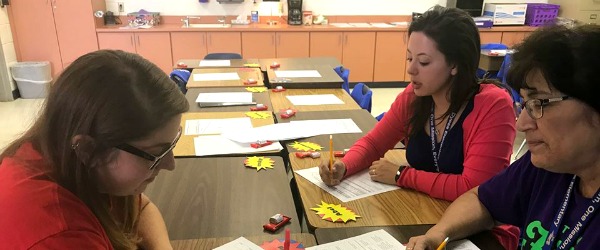 Dyess Elementary School teachers in the Abilene ISD have jumped on the Texas Lesson Study train, and principal Michael Newton and fifth grade teacher Rosemary Abila are seeing the rewards.
Like many great school leaders, Mr. Newton wanted his staff to have teacher-driven professional development. Texas Lesson Study is an initiative that provides teachers collaborative time to create a series of lessons that will help their students be better problem-solvers. Mrs. Abila has participated in the Lesson Study program since the early 2000s and serves as a facilitator at Dyess Elementary. "Being able to study the data and formulate your rationale for wanting to teach a certain series of lessons has a big impact on how teachers go about planning lessons for their students," she explained. "Asking the teacher to do the research and decide what should happen in the lesson doesn't happen in many professional development workshops."
Dyess Elementary was one of the first Lesson Study campuses to have a lesson uploaded to the Texas Gateway web portal for other teachers across the state to use. This past year three different groups have created lessons. One of the lessons, "The Birthday Conundrum," is a third-grade math lesson that asks students to plan a birthday party for themselves and four friends. The "Comparing and Discussing" section of the research lesson saw students teaching the class what they learned.
Dyess teachers have also created a fourth- and fifth-grade financial literacy lesson proposal entitled "We're Going to Disneyland," in which students calculated a yearly family income and balanced a simple budget to determine if the family will be able to go on vacation to Disneyland. The lesson will be available on the Texas Gateway later this summer.
"Texas Lesson Study is reaching teachers across the state," Newton said. "Dyess Elementary School is at the forefront getting great lessons out there for the world – not just Texas – to see." #IAmTXEd #TXLS Abilene ISD