Classroom Connectivity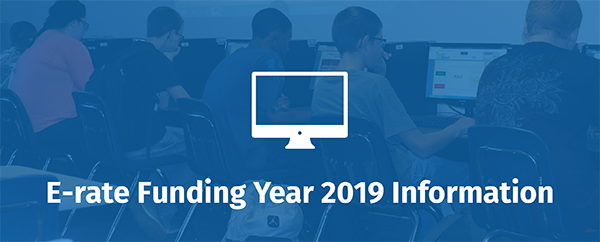 On March 10, 2016, Governor Greg Abbott announced the Classroom Connectivity Initiative, a joint partnership between the Texas Education Agency, the regional education service centers and the non-profit EducationSuperHighway. The initiative is designed to increase access to affordable, high-speed broadband and Wi-Fi access for K–12 public schools in Texas. The Classroom Connectivity Initiative focuses on providing information and assistance to LEAs to optimize funding available through the E-rate program.
We work with your district in three areas: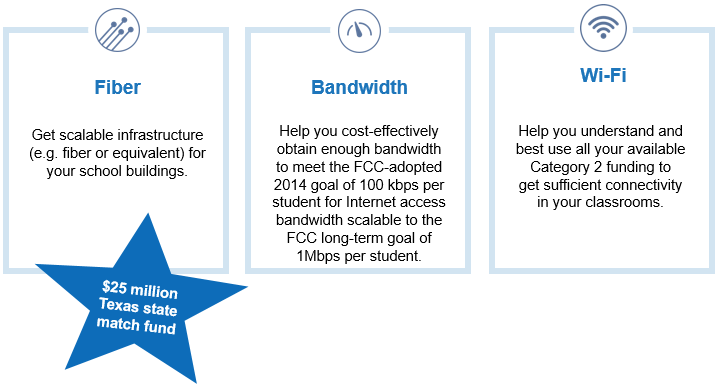 Texas State Matching Fund:
Authorized by the Federal Communications Commission (FCC) though the Second E-rate Modernization Order
Appropriated by the 85th Texas State Legislature in June 2017
State matching funds reduce the local funding share for E-rate approved Category 1 special construction projects by providing a dollar-for-dollar match. Therefore, if Texas provides $25 million, the FCC will provide  $25 million.
LEAs with an E-rate discount of 80% to 90% can have their E-rate approved Category 1 special construction project fully funded.
LEAs with an E-rate discount rate less than 80% can receive an additional 20% of their approved project costs.
State matching funds were available for the E-rate Funding Year 17, Funding Year 18 and Funding Year 19 cycles
More detailed information is available on our Grant Applications FAQ, Texas State Match Fund FAQ and Texas State Match Fund Application Process page.
 Current E-rate Opportunities:
E-rate funding and rule changes have created an opportunity to support LEA bandwidth upgrades:
Deploying new fiber (lit, dark, or self-provisioned) is an eligible Category 1 E-rate service
The FCC has suspended the $500,000 cap on construction costs
A $150/student Category 2 Wi-Fi budget is guaranteed per school through funding year 2019
E-rate Category 1 services. Category 1 include services used to connect broadband or Internet to eligible locations, or services that provide the basic conduit access to the Internet, data transmission services, Internet access and voice services.
E-rate Category 2 services. Category 2 services include internal connections services needed to enable high-speed broadband connectivity and broadband internal connections components. Category 2 includes local area networks/wireless local area networks (LAN/WLAN), internal connections components, basic maintenance of internal connections components, and managed internal broadband services.
Initiative Partners:
Many Education Service Centers (ESC) assist districts in the E-rate process. This may include assisting with filing for E-rate funding or the creation of consortiums and consortium applications to take advantage of economies of scale.
TEA has partnered with EducationSuperHighway to provide experts with network technology and network procurement skills. The team can support all aspects of your upgrade process. Our partners can assist with research on potential network upgrade options, contact service providers, and provide RFP/ Form 470 guideline assistance for E-rate and state match applications. All assistance through the Classroom Connectivity Initiative is provided free of charge.
EducationSuperHighway's Compare and Connect K-12 tool allows districts to maximize their budgets by comparing prices with nearby school districts.