Classroom Connectivity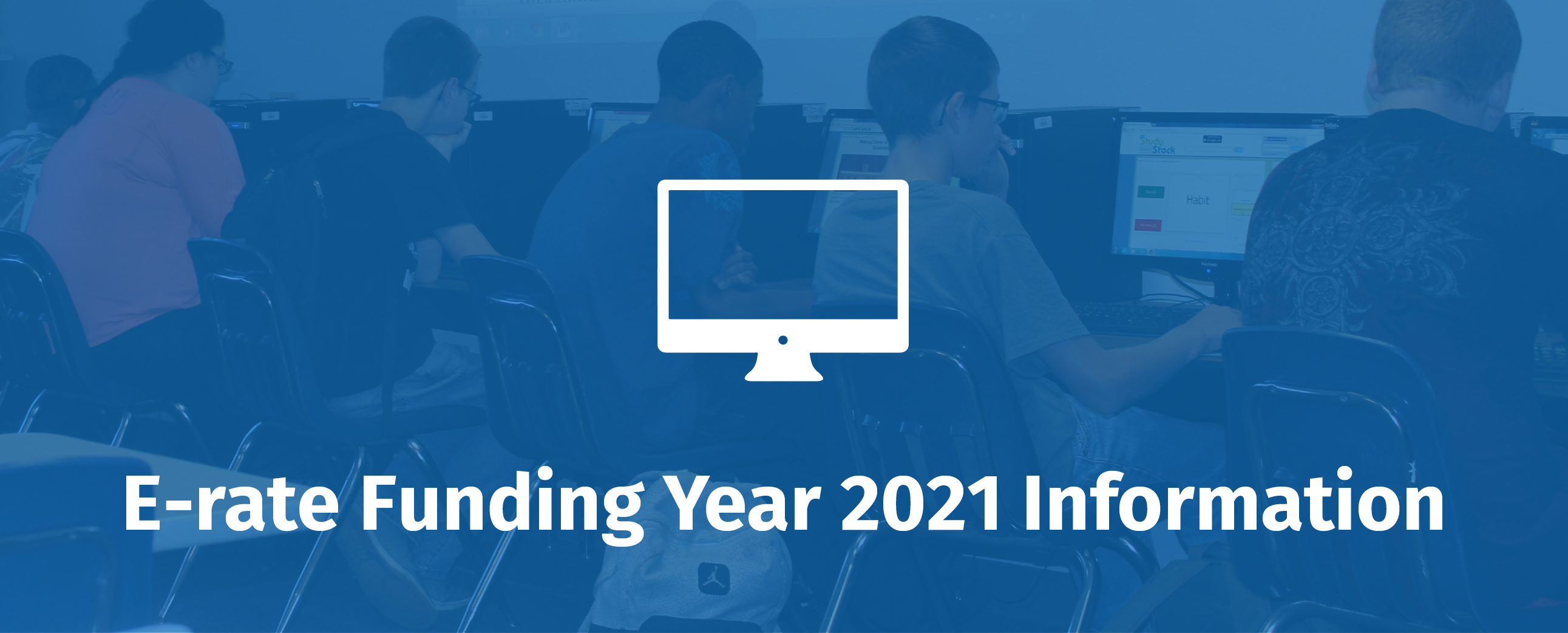 Published Webinar
Date:
9/25/2020
Topic:
TEA Update: Second E-Rate Application Window for FCC Funding Year 2020
Description:
An update on the Second E-Rate Application Window for FCC Funding Year 2020. We provided highlights on the order, eligible services and guidelines on competitive bidding.
Please note the Second E-rate Application Window is only open for those LEAs who are participating in the first application window and only Category 1.
Webinar Presentation  |  Webinar Video  |  Questions & Answers
FCC Order for new E-rate Window:
Links to the order and press release can be found here.
Highlights:
Specifically addresses increased bandwidth on campus
The window opens 9/22 to 10/16/2020.
Allows additional funding without competitive bidding
Schools may only request Category 1 internet access and/or data transmission services needed due to COVID-19.
Discounts may be requested on services already provided as early as July 1, 2020.
Eligible Services:
Additional on-campus Category 1 internet access and/or data transmission needed because of COVID-19 pandemic
Off-campus use, even for educational purpose, is ineligible for support
Competitive Bidding:
E-rate discounts are allowed for bandwidth increases without conducting competitive bidding with limitations:

If the school has already sought bids by posting a form 470
If the school has received approval from USAC for funding year 2020 for eligible Category 1
And requests for additional bandwidth are through an existing service provider or a new one.
SECA has sent the FCC clarification questions and are hoping for a turnaround by September 18, 2020.  A link will be posted here.
Current E-rate Opportunities:
In January 2020, the FCC released a new Report and Order that makes changes to E-rate rules for Category 2 funding applications.
The most significant changes to E-rate rules for Category Two funding applications include:
Permanent adoption of the Category 2 budget approach
The FCC has made the "Category 2 budget" approach adopted in 2014 permanent. The approach consists of five-year budgets for all schools and libraries that provide a set amount of funding to support internal connections.
Extension of the five-year test period through Funding Year 2020
To ensure a smooth transition to the new permanent rules that will be effective in 2021, the FCC has extended the "test period" rules – used during Funding Years 2015-2019 – through Funding Year 2020. In other words, the five-year test period and budget is now a six-year test period and budget for all applicants.
A central outcome of this decision is that applicants can use whatever budget they have remaining and ALL applicants will be provided with a prorated portion of Category Two budget for Funding Year 2020 – increasing all applicant budgets by 20% for the current funding year. Any funds that are not used this year expire and will not carry forward.
A school will calculate its Funding Year 2020 Category Two budget by multiplying its Funding Year 2020 student count by $195.63 (the Funding Year 2020 school multiplier) and subtracting the pre-discount amount of Category Two funding it received in Funding Years 2015-2019.
New rule changes that will go into effect in 2021:
All applicant budgets will be reset.

Fixed Five-year budget cycles for everyone.

Category 2 budgets will be calculated on a school district-wide budget basis (instead of on a school by school basis).

The "Funding Floor" will increase from $9,200 to $25,000 for districts with less than 150 students.

The per-student budget multiplier has been adopted as an inflation-adjusted $167 (rounded up for administrative simplicity).

Small school districts with ten or fewer sites have the option to calculate their budgets on a per-site basis.

Applicants will only need to provide student counts once every budget cycle.

Student counts will be based on full-time enrollment.

No new eligible services have been added.

Equipment transfer rules have been loosened
Initiative Partners:
Many Education Service Centers (ESC) assist districts in the E-rate process. This may include assisting with filing for E-rate funding or the creation of consortiums and consortium applications to take advantage of economies of scale.
TEA has partnered with EducationSuperHighway to provide experts with network technology and network procurement skills. The team can support all aspects of your upgrade process. Our partners can assist with research on potential network upgrade options, contact service providers, and provide RFP/ Form 470 guideline assistance for E-rate and state match applications. All assistance through the Classroom Connectivity Initiative is provided free of charge.
EducationSuperHighway's Compare and Connect K-12 tool allows districts to maximize their budgets by comparing prices with nearby school districts.
Important Notice
For applicants who applied for and were approved for the 2017-2020 E-rate Classroom Connectivity (State Match) grant, the last day to expend grant funds was August 17, 2020.  These NOGAs are now closed.
For applicants who applied for and were approved for the 2018-2021 E-rate Classroom Connectivity (State Match) grant, the last day to expend grants funds is May 31, 2021. This means if your project was approved by TEA, that funding will expire May 31, 2021 and funds must be drawn down by this date.