Texas Science, Technology, Engineering and Mathematics Initiative (T-STEM)
Texas Science, Technology, Engineering and Mathematics (T-STEM) Academies are rigorous secondary schools focusing on improving instruction and academic performance in science and mathematics-related subjects and increasing the number of students who study and enter STEM careers:
Provide dual credit at no cost to students
Offer rigorous instruction and accelerated courses
Provide academic and social support services to help students succeed
Increase college readiness
Reduce barriers to college access
Align to regional workforce needs for ICIA, P-TECH, and T-STEM models
Designation:
School districts or open-enrollment charters may apply for a campus to be awarded T-STEM designation if certain criteria are met. Campuses awarded T-STEM Designation are provided technical assistance and professional development to ensure implementation of the T-STEM Blueprint with fidelity. Sample designation criteria are below:
Target and enroll students who are at-risk of dropping out of school.
Be a school of choice with no requirements for enrollment such as test scores, essay questions etc.
Serve grades 6-12 or grades 9-12 with an active relationship with the feeder middle school(s).
Implement the T-STEM Blueprint and demonstrate progress on the Blueprint continuum.
Texas is home to 94 state designated T-STEM Academies and has 9 planning year campuses for the 2018-2019 school year.
2018-2019 T-STEM Designated Campuses
2017-2018 T-STEM Designated Campuses
2016-2017 T-STEM Designated Campuses
Laws and Rules
Texas Education Code, §39.235; Texas Administrative Code §102.1093
General Appropriations Act (GAA), Article III, Rider 49, 85th Texas Legislature, 2017
T-STEM Blueprint Redesign
During the 2016-2017 and 2017-2018 school years, TEA has engaged with stakeholder groups across Texas to provide recommendations to the T-STEM Blueprint and Designation process. TEA has incorporated those recommendations and included Outcomes-Based Measures (OBMs) into a draft version of a T-STEM redesigned Blueprint.
TEA will seek stakeholder input on a future draft version of a T-STEM redesigned Blueprint. For more information on the timeline for future T-STEM blueprint redesigns, sign up for our CCRSM Newsletter.
The public comment period is open Thursday, February 15, 2018 -Wednesday, February 28, 2018.
View the overview walkthrough of the Texas College and Career Readiness School Models (CCRSM) and rationale for redesigning the Blueprint.
Download a PDF version of the T-STEM Blueprint Redesign recommendations.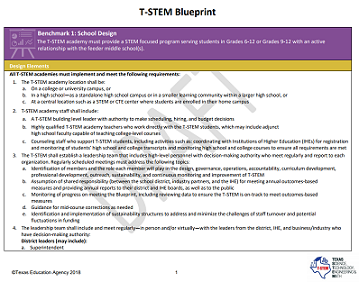 T-STEM Blueprint Benchmarks:
Mission-driven leadership
T-STEM Culture
Student Outreach, Recruitment, and Retention
Teacher Selection, Development, and Retention
Curriculum, Instruction, and Assessment
Strategic Alliances
Academy Advancement and Sustainability
Contact Information
College, Career, and Military Prep
Postsecondary Preparation Programs
1701 N. Congress Ave
Austin, TX 78701