STAAR Mathematics Resources
Student Assessment Home | Assessment A–Z Directory | Contact Student Assessment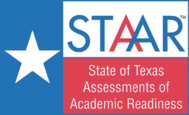 This webpage contains STAAR resources for grades 3–8 mathematics and        Algebra I. 
In April 2012, the State Board of Education (SBOE) revised the Texas Essential Knowledge and Skills (TEKS) for mathematics. The SBOE specified that districts implement the new standards in K–8 classrooms in the 2014–2015 school year and the new high school standards in 2015–2016.

The Student Assessment Division of TEA, in coordination with the Curriculum Division, convened advisory committees in October 2013 to make recommendations about the implementation of the new TEKS in the STAAR mathematics assessments.
To see all available STAAR resources, visit the STAAR Resources webpage
The following links open portable document format (PDF) files unless otherwise noted.
Rulers
To produce rulers that are consistent with those printed on the state-supplied mathematics reference materials, follow these steps:
Set the print menu to print the pages at 100% by selecting "None" under the Page Scaling option.
Print on paper that is wider than 8 ½ inches, such as 11 by 17 inch paper.
Trim the paper to 8 ½ by 11 inches so that the rulers will be on the edge of the paper.
Archive
Contact Information
For additional information, contact:

Student Assessment Division
1701 North Congress Avenue
Room 3-122A
Austin, Texas 78701
(512) 463-9536

math.test@tea.texas.gov