Texas Environmental Education Advisory Committee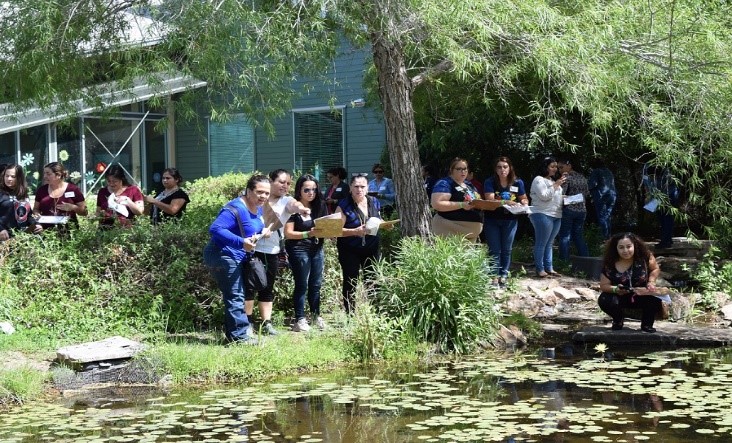 The Texas Environmental Education Advisory Committee (TEEAC) helps assure that professional development in environmental education aligns to the Texas Essential Knowledge and Skills (TEKS).
Upon request, the committee may also advise the commissioner on environmental education issues.
The TEEAC Annual Providers' meeting brings together representatives from zoos, museums, and nature centers to learn about state curriculum issues and initiatives.
Professional Development
Educators
Earn an environmental education Certificate of Recognition by receiving professional development from a TEEAC provider.
For more information see the Frequently Asked Questions in the documents section, below.  
A list of current TEEAC Providers is below.
TEEAC Providers 2022-2023  Note that providers may give out stickers that you can affix on the Coursework Verification Form below, or they may include the number of TEEAC hours earned on a certificate of attendance.
Coursework Verification Form (PDF, 462 KB) Used by educators to affix stickers to record attended workshops
TEEAC Providers
The network of TEEAC Providers helps assure that teacher professional development is educationally rigorous and consistent with the TEKS. For a list of TEEAC Providers, please refer to the document, TEEAC Providers, in the documents section below.
To become a TEEAC Provider, an institution must provide professional development to educators and/or provide educational opportunities for Texas students. Providers complete a Program Description Form for each workshop they offer educators. You can request the Program Description Form via email to liz.baker@tea.texas.gov
Related Links
The links below are resources for environmental education:
Documents
The documents below are resources for environmental education:
Contacts
Liz Baker
liz.baker@tea.texas.gov
Texas Education Agency
1701 North Congress Avenue
Austin, TX 78701-1401
(512) 463-9581
Kiki Corry, TEEAC Chair
Kiki.Corry@TPWD.Texas.gov
Texas Parks and Wildlife Department
(512) 389-4369