E-rate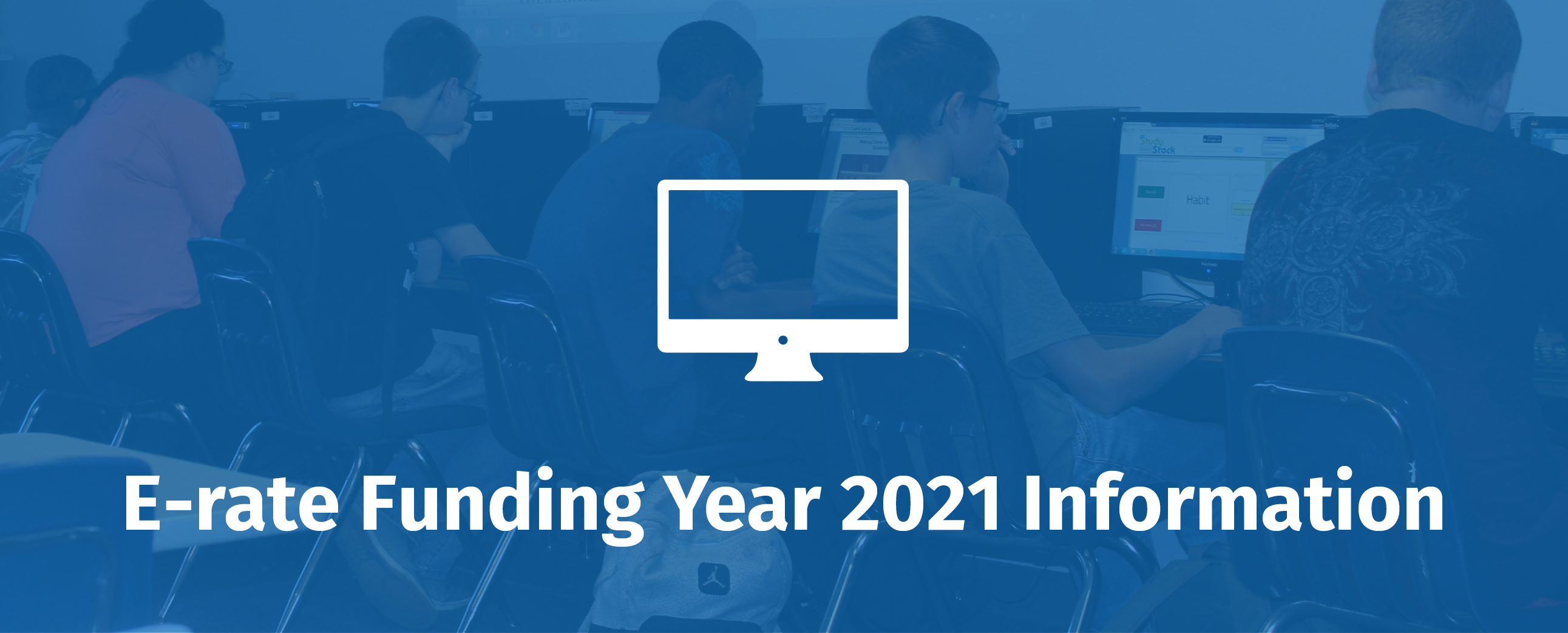 Based on the Telecommunications Act of 1996, the Federal Communications Commission (FCC) created the E-rate program to provide schools and libraries affordable access to advanced telecommunications services. The E-rate program, also known as the Universal Service Schools and Libraries Program, is administered by the Universal Service Administrative Company (USAC). This program provides discounts ranging from 20 to 90 percent on telecommunications services, internet access, internal connections, and basic maintenance of internal connections to eligible schools and libraries. To receive E-rate discounts, schools and libraries must competitively bid all eligible services on the USAC E-rate Productivity Center (EPC) website at and, after a minimum of 28 days, select the most cost-effective proposal. Schools and libraries then apply for E-rate discounts. If approved, schools and libraries receive discounts through direct discounted bills or the reimbursement process.
FY 2021 Eligible Services list here.
E-rate Funding Year 2021 Application Filing Window Opens January 15, 2021:
The Funding Year 2021 FCC Form 471 application filing window will open on Friday, January 15, 2021 at 12:00 noon EST and will close on Thursday, March 25, at 11:59 p.m. EDT.
The E-rate section of USAC's website provides resources for new applicants or applicants continuing to participate in the program.
COVID-19 Response
USAC Training for FY 2021
In the beginning of November 2020, USAC conducted a series of nine online training sessions addressing the basics of E-rate.  Recordings of those sessions are available on the webinars page of the USAC website. 
E-rate Discount Calculation
Your school can receive an E-rate discount of 20 to 90 percent depending on its location (in an urban or rural area) and the economic needs of your students. The level of economic needs is determined by the percentage of students eligible for the National School Lunch Program (NSLP). A school district must divide the total number of students in the district eligible for the National School Lunch Program (NSLP) by the total number of students in the district. The district must then use the E-rate Program discount matrix to convert that resulting single percentage figure into an E-rate Program discount rate. If a majority (i.e., more than 50 percent) of the schools in a district are classified as "rural," the district is eligible for a rural discount. The online FCC Form 471 will guide you through this process and will do the calculations and lookups for you.
To calculate your school's E-rate discount, you must determine the percentage of students by school who are eligible for the NSLP. Eligibility criteria is based on whether or not a student's family falls within the income eligibility guidelines of NSLP. Eligibility is not based on a student's participation in NSLP.
Additional information and requirements for the E-Rate program are available at the following links:
Getting Started with E-rate(outside source)
Eligible Services List (outside source)
FY2021+ Category Two Budget Tool Is Now Available
FY2021+ Category Two Budget Tool is designed to assist applicants in determining their Category Two budgets for each five-year cycle beginning with the first budget cycle, which starts in FY2021 and ends in FY2025. View the FY2021+ Category Two Budget Tool video tutorial to see how it works.
E-rate Federal Communications Commission Links
The following Federal Communication Commission (FCC) resources may be helpful:
FCC E-rate Website (outside source)
FCC Children's Internet Protection Act (CIPA) Guidance (outside source)
FCC Summary of the Second E-rate Modernization Order (outside source)
 
E-rate Universal Service Administrative Company Schools and Libraries Program Links
The following Universal Service Administrative Company (USAC) Schools and Libraries Program resources may be helpful:
Schools and Libraries (E-rate)(outside source)
USAC E-rate Productivity Center (EPC) (outside source)