Math Innovation Zones
Math Innovation Zones (MIZ) supports school districts and open-enrollment charter schools in the expansion of blended learning instructional models in math by defining, supporting, and scaling a high-fidelity of implementation of the model. Blended learning is defined by the Clayton Christensen Institute as:
A formal education program in which a student learns:
A) at least in part through online learning, with some element of student control over time, place, path, and/or pace;
 B) at least in part in a supervised brick-and-mortar location away from home;
 C) and the modalities along each student's learning path within a course or subject are connected to provide an integrated learning experience.
Blended Learning combines face to face instruction with online learning by leveraging technology to assist teachers in diagnosing student prior knowledge, differentiation of academic paths for each student, and adjusting lesson execution based on real-time information about student mastery. 
Blended Learning can be categorized into one (or a hybrid) of four models: a rotational model, flex model, a la carte model and an enriched virtual model. These models are clarified in the image below (source: Clayton Christenson Institute). Further information on blended learning taxonomy can be found at www.christenseninstitute.org.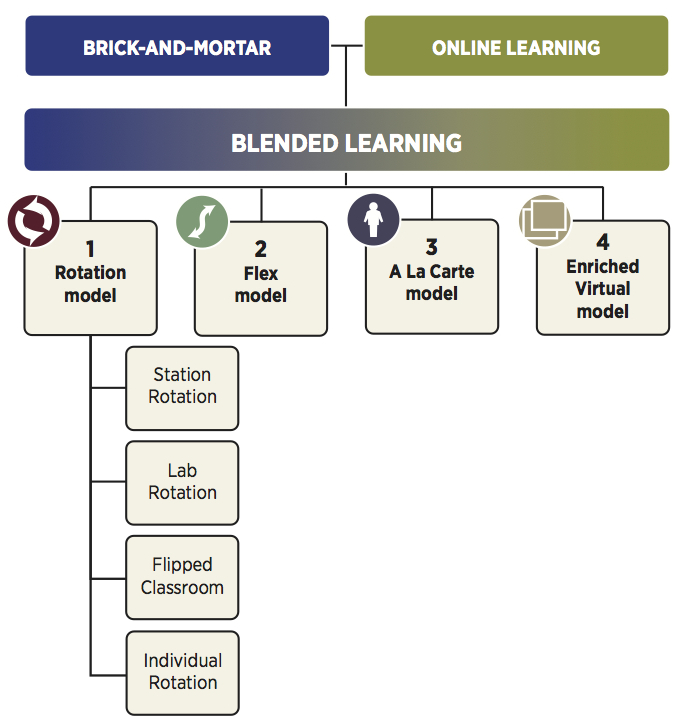 MIZ supports school districts and open-enrollment charter schools in designing and implementing high-quality blended learning programs in math with a robust technical assistance network (TAN) comprised of experts in blended learning implementation and a state approved online curriculum vendor. MIZ seeks to improve student mastery of TEKS for students in pre-kindergarten (PK) through 8th grade, with a focus on 8th grade Algebra I preparedness for students and financial sustainability for school districts.
A high-fidelity implementation of a blended learning instructional model has led to improvements in student academic results as exhibited in the research studies below. Similar programs have generated positive academic results in Texas, the outcomes of which TEA seeks to scale through MIZ.
Math Innovation Zones is authorized by Section 28.020 of the Texas Education Code as established by Senate Bill 1318 and funded by the General Appropriations Act, Article III, Rider 41, 85th Texas Legislature.
Current Math Innovation Zones Districts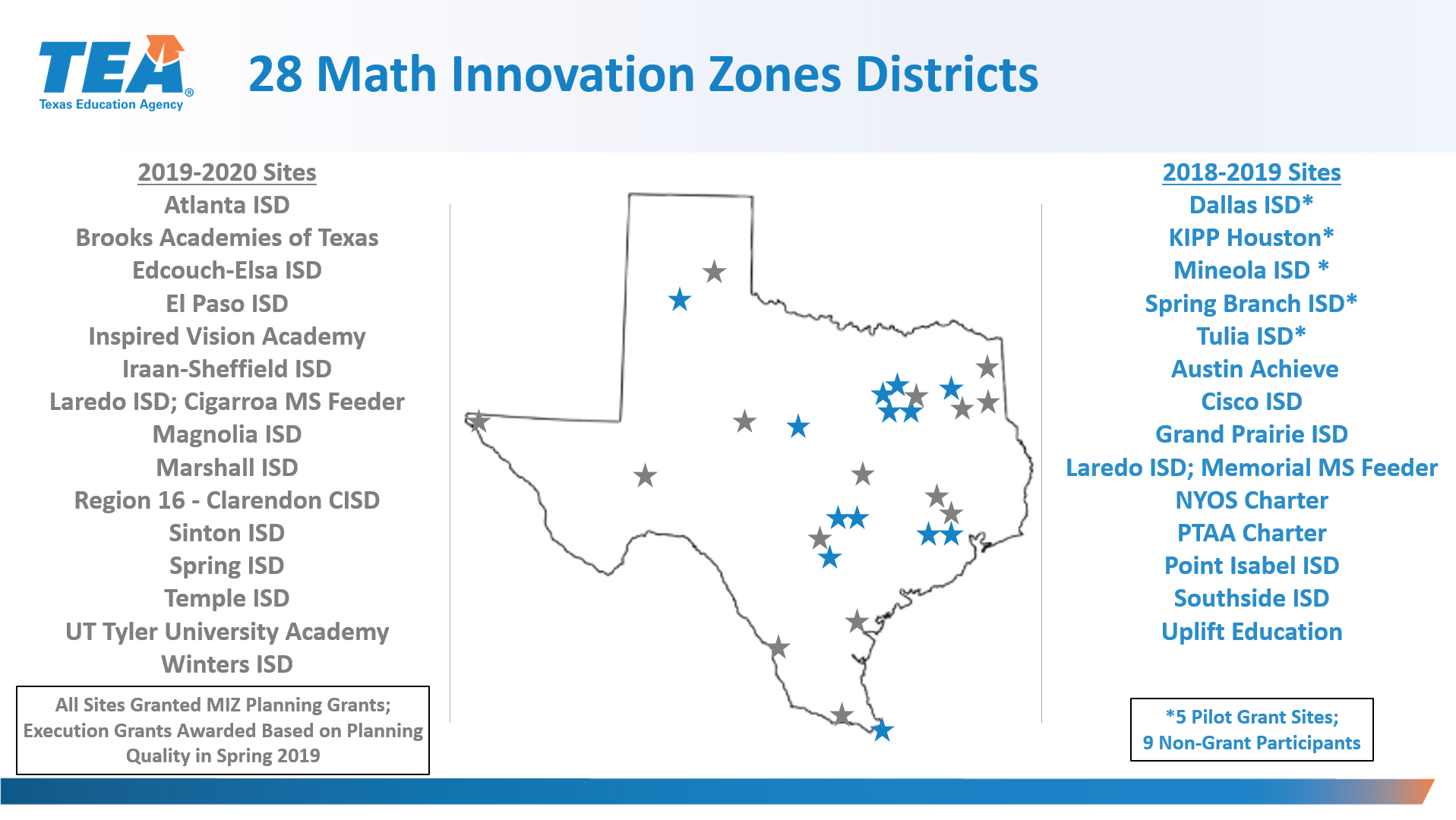 2018 - 2019 MIZ Cohort
Pilot Grant Districts: Dallas ISD, KIPP Houston, Mineola ISD, Spring Branch ISD, and Tulia ISD
Exploratory Districts: Austin Achieve, Cisco ISD, Grand Prairie ISD, Laredo ISD, NYOS Charter, PTAA Charter, Point Isabel ISD, Southside ISD, and Uplift Education
All Pilot Grant sites received a $500,000 implementation grant. Both Pilot and Exploratory sites receive state negotiated software rates, access to Math Innovation Zones programmatic resources and will be eligible for an outcomes-based grant of $100,000 from a high-fidelity implementation of the program. 
2019-2020 MIZ Cohort
Atlanta ISD, Brooks Academies of Texas, Clarendon CISD & ESC Region 16, Edcouch-Elsa ISD, El Paso ISD, Inspired Vision Academy, Iraan-Sheffield ISD, Laredo ISD, Magnolia ISD, Marshall ISD, Sinton ISD, Spring ISD, Temple ISD, UT Tyler University Academy, and Winters ISD
All 2019-2020 MIZ Districts received a planning grant to assist in the planning of Math Innovation Zones in the spring of 2019. All 2019-2020 grantees that fulfill the fidelity of planning requirements for Math Innovation Zones will receive an additional grant to implement the program in the fall of 2019.
Math Innovation Zones State Approved Vendors
A high-fidelity implementation of a blended learning program requires a strong district and school implementation team, expert technical assistance, and a high-quality online curriculum program. To support districts and schools in both the planning and execution of Math Innovation Zones, TEA has named the following state approved vendors from a competitive RFQ process: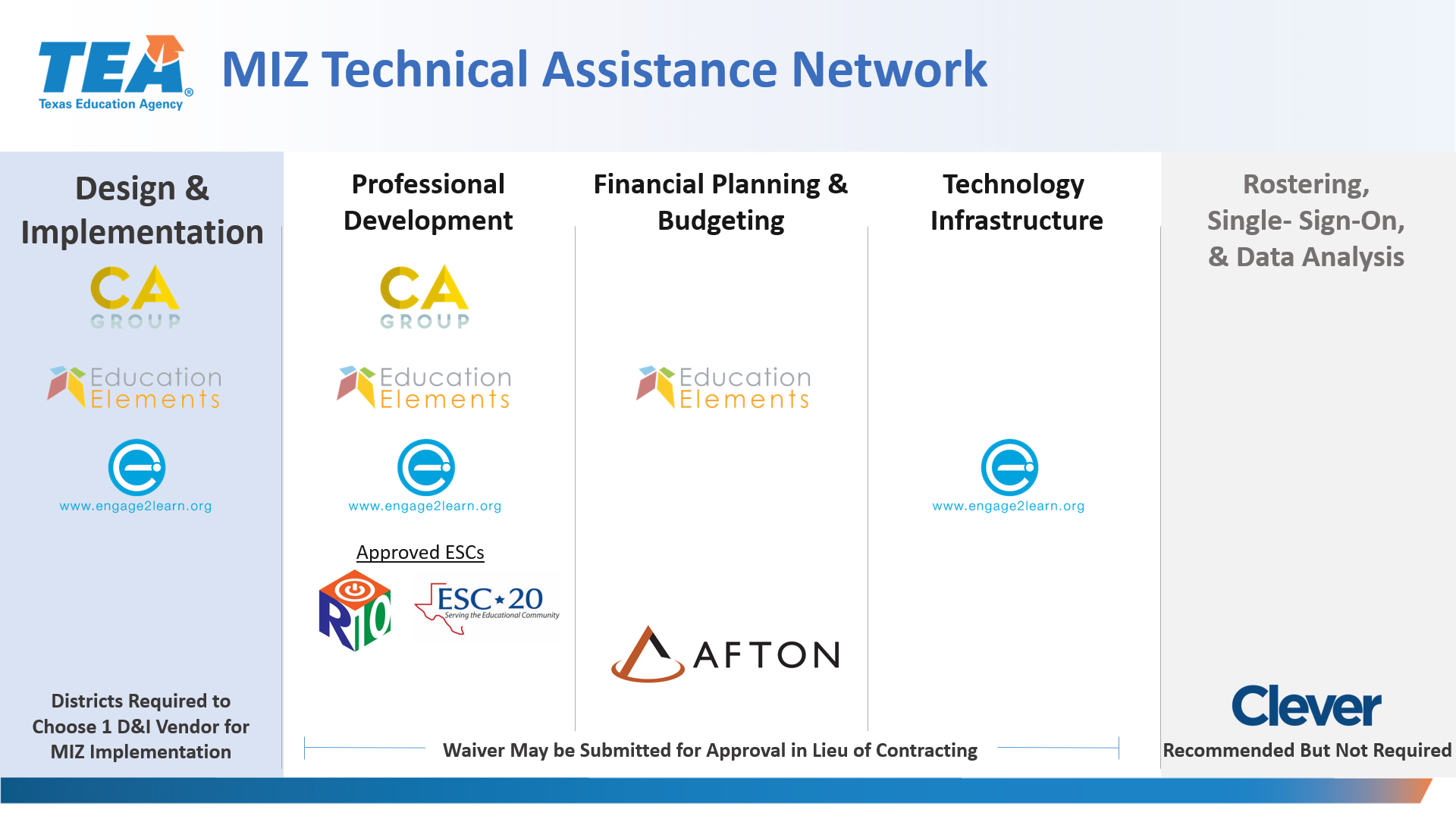 State Approved Software Vendors: Imagine Math, IXL Math, Reasoning Mind, ST Math (MIZ sites required to choose one vendor in implementation)
Design and Implementation Support: CA Group, Education Elements, Engage2Learn; (MIZ districts required to choose one Design and Implementation vendor in implementation)
Professional Development Support: CA Group; Education Elements; Engage2Learn; Approved ESC Partners: ESC Region 10 and ESC Region 20
Financial Planning and Budgeting Support: Afton Partners, Education Elements
Technology Infrastructure Support: Engage2Learn
Rostering, SSO, Data Support: Clever
Impact: Math Innovation Zones Software Vendors and Blended Learning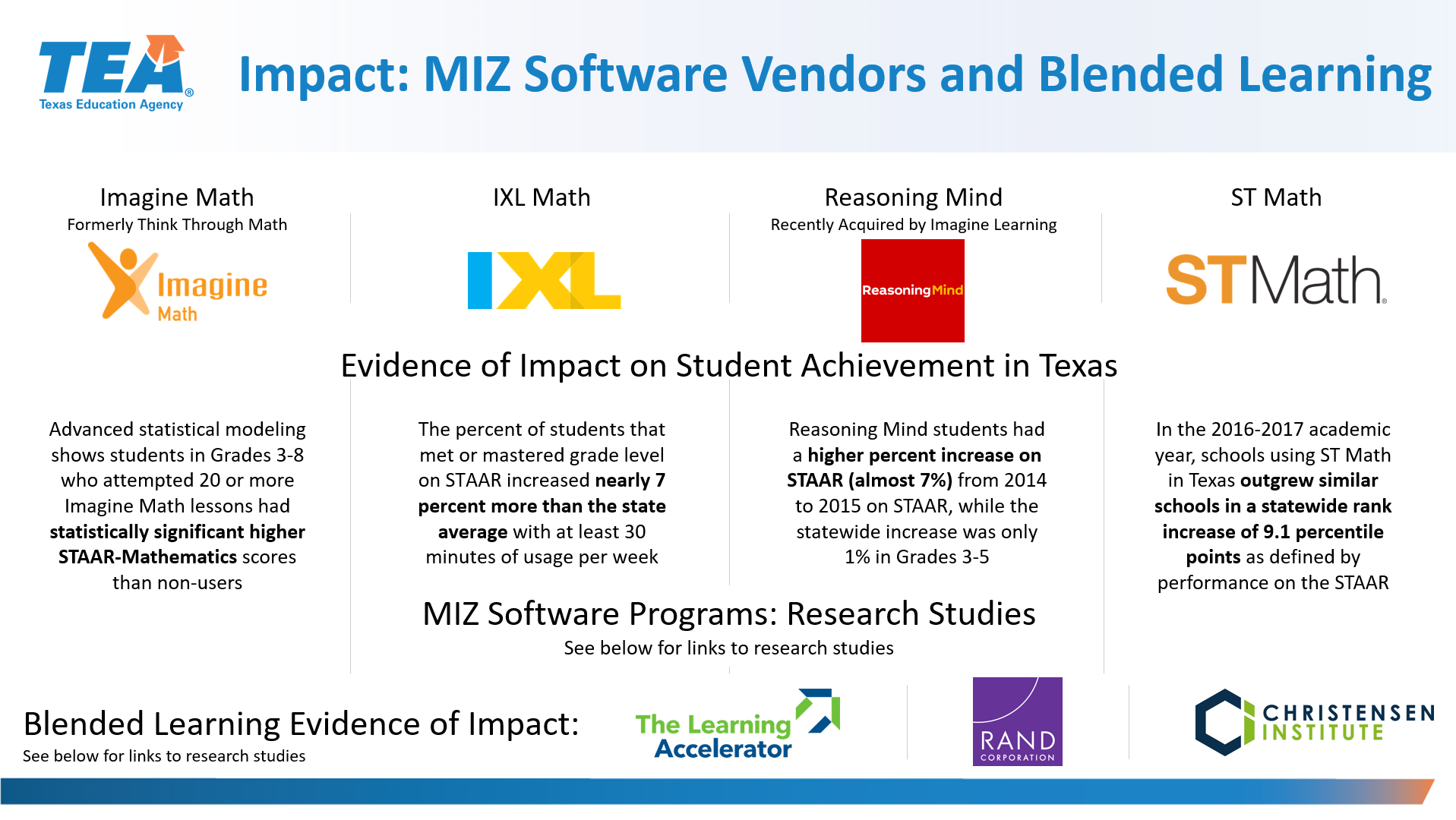 Evidence of Impact: MIZ Software Program:
Evidence of Impact: Blended Learning
The Learning Accelerator: Blended Learning Research Clearinghouse 1.0, May 2015: LINK HERE
 RAND Corporation: Continued Progress, November 2015: LINK HERE
Christensen Institute: Proof Points: Blended Learning Success in School Districts, September 2015: LINK HERE  
MIZ Resources
MIZ Fidelity of Implementation Overview: Linked Here
MIZ Feature on TEA Podcast, TEA Time: Linked Here
Application Window Closed: Request for Letters of Interest for 2019-2020 Math Innovation Zones Planning and Execution Grants  
On Thursday, November 1st, 2018, school districts and open-enrollment charter schools submitted Letters of Interest for the 2019-2020 Math Innovation Zones Cohort. Districts with future interest in the program may review the Request for Letters of Interest and attachments for reference at this link.
WEBINAR RECORDING: 2019-2020 MIZ Planning and Execution Grants Webinar; Program overview and responses to submitted questions for MIZ Planning and Execution Grants; The recorded webinar can be accessed at the following link: https://attendee.gotowebinar.com/register/7538050903105377794
Questions and Responses: The questions and responses submitted via email or during the webinar can be found at this link.
Laws and Rules
The following laws related to Math Innovation Zones have been established: TEC Sec. 28.020
Contact Information
Special Projects
Texas Education Agency