Restorative Discipline Practices in Texas
Restorative Discipline Practices (RDP) in Texas began in the Fall of 2015. The Texas Education Agency partnered with the Institute for Restorative Justice and Restorative Dialogue at The University of Texas at Austin School of Social Work to participate in a statewide roll out.
A grant provided training to ten of the twenty education service centers and school districts in Texas. The first ten service centers were selected based on the number of African American males that were suspended from the school districts in their regions. The training occurred in two parts. The first part included a two-day administrator readiness training, the second part a five-day coordinator training. The remaining ten regional service centers will receive the same training.
The goal is to plant the restorative discipline practices seeds across Texas. 1,400 administrators and 400 coordinators obtained training as of the fall 2016.
Video Resources
Restorative Practices Made Simple by Dr. Gaye Lang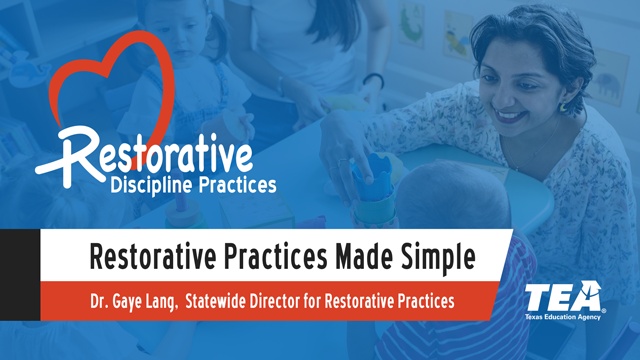 In Restorative Practices Made Simple, Dr. Gaye Lang and her invited panel discuss real-world examples of how Restorative Practices has positively impacted students across the state.
Watch Video Series
Seeing Circles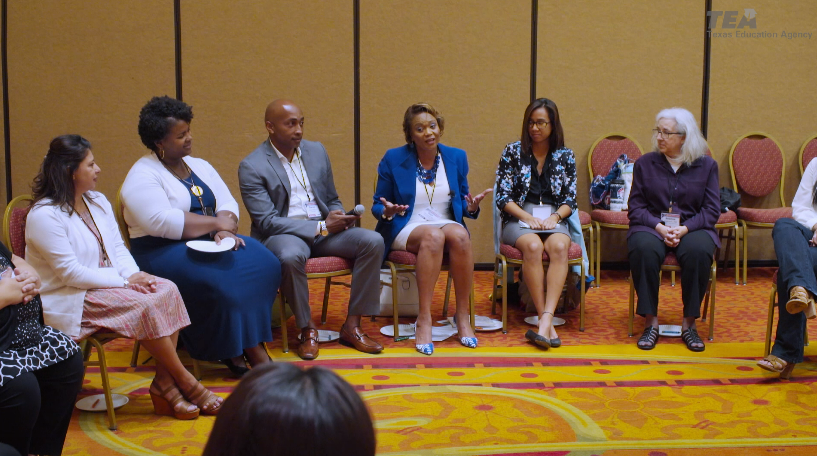 The Seeing Circles video series shows an example of a Restorative Circle, a type of Restorative Discipline practice.
Watch Video Series
Restorative Practices with Families
How you phrase redirection and correction is a vital aspect of correcting and changing behavior. This is the 3rd leg of the "3 legged stool" of restorative discipline practices.
Training Resources and Lesson Plans
Introductory Training
An introductory training in the basic principles, values, and processes of Restorative Discipline Practices and interventions in school settings is necessary to build community and for responding to challenging, behavior through open dialogue, coming to an understanding, and opportunities to set things right.
Sample Lesson Plan
After you have attended training for Restorative Discipline Practices and have an understanding of the circle process and how to facilitate circles, this sample lesson plan will assist you as begin to experience circles in your classroom with your students.
Promoting Positive Restorative Relationships at Home
Here are some sample lessons for parents to use when implementing Restorative Discipline practices at home and integrating them into home learning.
Additional Resources
Title
Description
RDP Badges

RDP Fidelity Continuum Scale (FCS) & Data Collection Sheet, Campuses Earning the RD Badge of Distinction

Photos

RDP Training Session Photos

Level 2 State Trainers

NEW!

Vetted List of Level 2 State Trainers
Final Report
Final Report from TEA and the University of Texas at Austin Institute for Restorative Justice and Restorative Dialogue Partnership Statewide Roll Out. The report represents the Restorative Practice trainings in the 20 ESCs.
Contact Information
Texas Education Agency
Department Innovation and Charters
Dr. Gaye Lang
(512) 463-2023
RDP@tea.texas.gov