Write Brain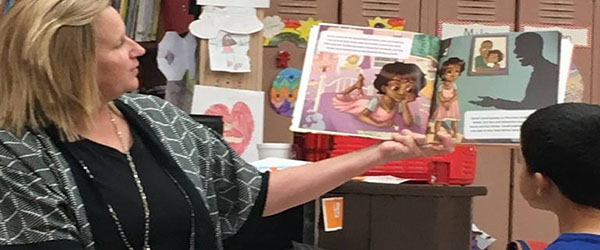 Lockney ISD's Lori Hooten spent her summer teaching "Write Brain," a program in which students learn to write and publish their own books, through the Communities in School (CIS) of the South Plains' Afterschool Centers on Education (ACE) program.
As part of the "Write Brain" program, Mrs. Hooten taught her 20 kindergarten and first grade summer students grammar, sentence structure, and essential storytelling elements, like identifying and creating characters and plot. She also taught her students how to express themselves. According to CIS South Plains ACE Coordinator Shaina Hart, Mrs. Hooten challenged her students to be descriptive. "Many times, I observed the class working together to find different words to articulate their thoughts," Hart said. "This taught out students to be more descriptive in their writing and widened their vocabulary."
Beyond storytelling, "Write Brain" allowed Hooten to nurture her students' team building skills. The students wrote a book together in groups, which taught them how to collaborate on ideas. Each group also picked the place to donate their book, which taught them about giving. "One group of our students donated their book to the school library and now anyone in the school can check out their book," Mrs. Hooten said, noting that everyone can see these students as authors – an exciting accomplishment!
Hooten knows her students love the program, but she also takes pride in the fact that many of her summer students have shown improvement since the school year. Hart agrees. "Every time I walk into this class, students are working hard on their books and having so much fun," Hart says. "I do not know how Mrs. Hooten does it, but she makes it feel different then the regular school day. Mrs. Hooten and I both feel like that is why there is so much growth, because students don't look at this program as 'school.' Instead, they see it as 'a fun activity.'" 
#IAmTXEd
#TexasACE
#CISSouthPlains
Lockney ISD