Volunteering to Teaching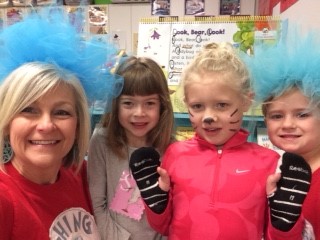 Liberty Hill ISD kindergarten teacher Marsha Hood came into the teaching profession a little later than others, but with an enthusiasm that inspires her colleagues daily. After being a local volunteer for more than 20 years in the Liberty Hill ISD, Mrs. Hood discovered her true passion was in the classroom and used an alternative certification program to obtain her teaching certificate. She has been a teacher since 2007.
"As a teacher of the youngest and most impressionable minds, she instills a love for reading and fosters in her students an unyielding desire to learn," says Liberty Hill Elementary School principal Heather Collison. "Mrs. Hood brings learning to life in her classroom. She teaches through visual tools, song, movement, and chant. Her classroom is energetic and engaging."
Principal Collison says that Hood likes to think outside the box and make learning real for her kindergartners when she is teaching them concepts. When teaching a unit on recycling, she took her students outside the classroom to show them how recycling works and why we do it. Her reasoning? She wanted to make learning real for her students – even students who are young.
As her assistant principal Shellie Brewer says: "Mrs. Hood educates the whole child. She supports all students to go above and beyond and achieve at high levels. Kids look forward to coming to school to see what Mrs. Hood will bring to life." #IAmTXEd  Liberty Hill ISD