Special Olympics Coach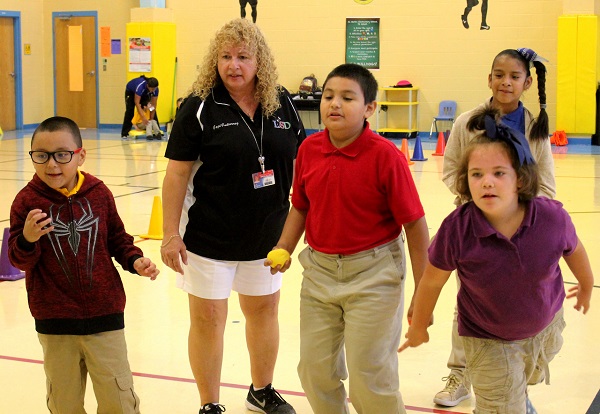 Laredo ISD's Adaptive Physical Education coach Olga Gutierrez was named the 2017 Special Olympics Texas (SOTX) Female Coach of the Year. This award recognizes the coach who best demonstrates a positive influence on his or her athletes, helping them to succeed in competition as well as in life.
"I'm extremely honored and blessed. It's a huge honor," said Gutierrez. "I'm getting an award for doing what I love to do everyday. I'm tremendously grateful and appreciative."
In 1999, Gutierrez was instrumental in implementing the Motor Activity Training Program (MATP) for the Special Olympics Texas Area 21 - Laredo. The area had many wheelchair-bound students who could not move themselves or release a ball to participate in the track and field events. "These kids were unable to participate and did not qualify for Special Olympics, so I implemented the MATP," said Gutierrez. "It was wonderful to see their smiles."
Coach Gutierrez has taught physical education in the Laredo ISD for the past 25 years. Her adaptive physical education classes are modified to meet the needs and abilities of each student and cover everything – including hand and eye coordination – so that the modifications can be integrated into any sport. "We want to give them the least restrictive environment," said Gutierrez.
Gutierrez fell in love with Adaptive Physical Education and her students early on. "Watching the kids learn and succeed and seeing the reactions on their faces– I wouldn't do anything else," said Gutierrez. "The kids are the best. They are full of love and definitely make me want to come to work every day."  #IAmTXEd   Laredo ISD