Planning for College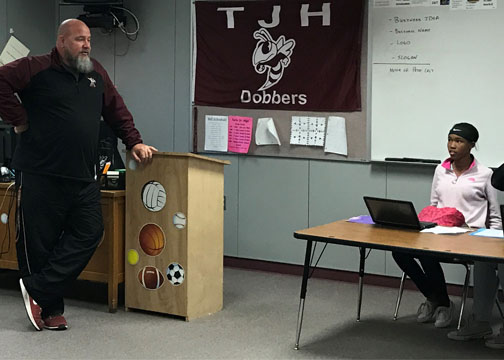 Before he became a physical education coach and teacher, Tulia ISD's Rob Patton spent his career as a successful salesman and businessman. Now as a Tulia Junior High Afterschool Center on Education (ACE) instructor, Patton uses his extensive business experiences to teach students about money and budgeting.
 When he is not helping students meet their physical fitness needs, Patton focuses on giving students tools in creating budgets and setting goals for financial independence. "By helping students discover summer job opportunities or even starting their own small business of mowing, painting or cleaning, I feel they will be better equipped to save money for college" said Patton. 
Patton uses humor and relationship building to create an inviting environment for his students. Patton also sets up his classroom to promote student interaction and is very open and honest about the real world. Students attending the financial class learn how much college will cost, the pros and cons of getting a college degree and future salaries for the jobs that are most interested in pursuing once they graduate high school.
"Through the efforts of teachers like Coach Patton, the Tulia ISD ACE program will be able to reach children in a positive way and give them resources to accomplish beneficial goals and develop the confidence to reach their fullest potential," said Tabor Minner, Campus Coordinator for Communities in Schools of the South Plains. "This class is a small step in showing students how to reach their future goals." #IAmTXEd #TuliaISD