New Kid on the Block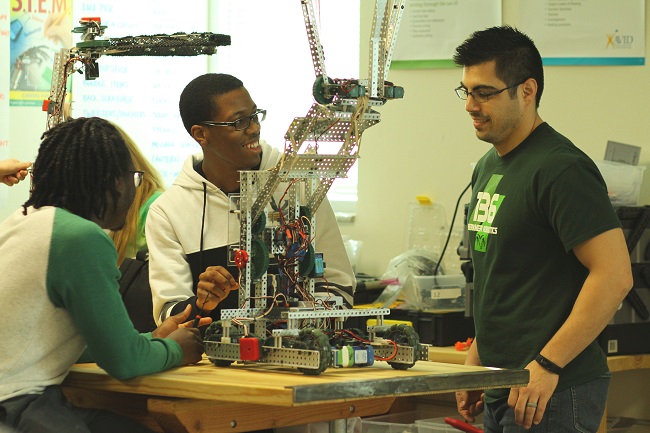 Richardson ISD's Omar Pastrana knows what it feels like to be the new kid on the block. "At the beginning of a new year, on a new campus, with a new robotics team, I was a little overwhelmed," the fifth-year teacher said at the start of his first year at Berkner High School STEM Academy.
During Pastrana's previous tenure teaching and managing a robotics club at another RISD junior high school, his students took home eight state and national titles and ranked in the top 60 clubs in the world. Although the trophies were neat, Pastrana said the extra time spent with students during competitions and travel was what meant the most to him. "I was able to learn about the students, build relationships with them and their parents, and even help a few through some tough decisions," he reflected. "Competitive robotics brought out students who had never been on a team and required that they make teamwork their priority."  
When a group of Berkner juniors first approached him after school, Pastrana thought that they wanted to talk about class. Instead they were interested in joining the robotics team. "They wanted to dive deeper into what we were learning in class and add the exciting element of competition to it," says Pastrana. The diverse group of students, which included band members, athletes and honor students, took their regular classroom programming and cranked up the intensity to build a robot four times larger than they would have in class.
They spent hours tweaking the programming and design of their robot," says Pastrana. "Along the way, amid lost parts and the constant writing and re-writing of design plans, they turned their rookie year into a qualification for the state championship. It is such a joy to be there when these students begin to say 'Wow!' in awe at the realization of their abilities. As an educator, my job is not only just to educate, but to captivate.  #IAmTXEd    Richardson ISD