Magically Transforming Classrooms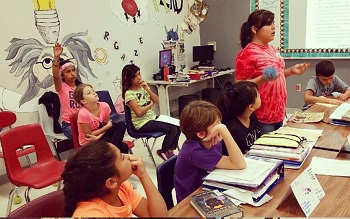 Salado ISD fifth-grade students eagerly line up outside Darcy Madsen's Salado Intermediate School classroom each morning, looking forward to an exciting and captivating lesson.
As an Advancement Via Individual Determination (AVID) instructor, Madsen creates interactive programs that magically transform her classroom into new environments like spooky graveyards, enchanted forests or even a Chinese restaurant. Students enjoy the costumes worn by Madsen, fashioning real-life characters that encourage student engagement in the lesson.
"I find inspiration from current events and pop culture," Madsen says, using her students' interests to develop classroom lessons like a note taking application based on Pokemon Go, an exploration of the scientific method based on bottle flipping, and a unit on plot elements based on the mannequin challenge. "I want to teach lessons that help students master concepts and conquer challenging content, said Madsen.
"Darcy Madsen is a true asset to our campus and a genuinely exceptional teacher," says Salado Intermediate School Principal Beth Aycock "She takes a genuine and personal interest in each child and actively nurtures a mentor-type relationship with them, often helping them set goals for their future and create an individual path to pursue their dreams."   #IAmTXEd   Salado ISD