El Jarabe Tapatio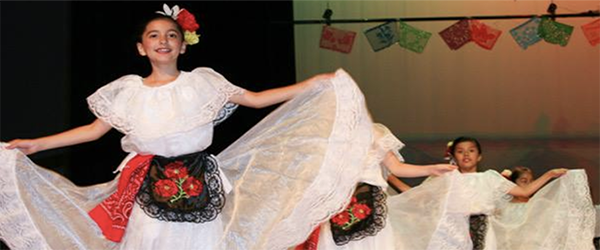 After the lessons have been reviewed, mariachi music soon fills the classroom as students begin rehearsal. Students are practicing the dance steps to "El Jarabe Tapatio" as part of the enrichment component of the Weslaco ISD Afterschool Centers on Education (ACE) program. At the head of the class is ACE instructor Angelica Cardoza and her assistant Adrian Garcia, who together team up to create a fun and exciting environment for their students.
"I'm grateful that ACE students are introduced to the cultural richness of traditional Mexican dance at such a young age," says Cardoza. Students learn about their roots through folkloric dance and continue to keep tradition alive. Additionally, they learn Spanish through the music and names of the various dance moves.
"ACE has provided an opportunity for the elementary students to be a part of folklorico since it is only offered at the middle and high school levels during the school day," Cardoza said. "The students are excited and eager to learn."
This summer, the dance program offered students six weeks of activities that explored three different cultures and dances. Mr. Garcia taught lessons that focused on Mexico, Colombia and the USA. The six weeks were broken down into three sections, and every two weeks students were introduced to a new culture. For each culture, Mr. Garcia included the history of the country, pictures, books, videos, arts and crafts and of course, a traditional dance. On the last day of the summer program, the students performed the dances they had learned during the summer program.
"Dance is very powerful and it helps students mature physically, emotionally, socially and cognitively," says Cardoza. "Our dance program has given our students opportunities to grow and not only learn dance moves, but to connect to other cultures around the world." 
#IAmTXEd
#TexasACE
Weslaco ISD