The Chopped Challenge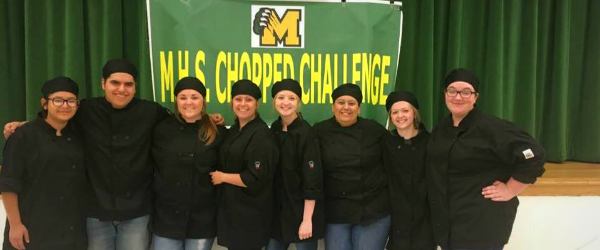 Heather Perkins, Moody ISD's Family, Career and Community Leaders of America (FCCLA) teacher, strives to create meaningful learning experiences each day for her students. Walking into any of her classes tells a tale of how dedicated she is to providing deliberate instruction that drives the personal growth of every student. There is no better example of this than her latest adventure with her Culinary Arts class.
Moody High School recently received a breakfast grant to promote the importance of starting the day with a healthy meal. Mrs. Perkins used this as a catalyst for her challenge. Her students had to learn why breakfast is important for the body, what a healthy breakfast entails, and how to prepare each item of a healthy breakfast. Once the basics were covered, the fun could begin. Seeing that most of the students in Mrs. Perkins' Culinary Arts class want to pursue a career in the food industry, this part of the challenge – a breakfast burrito challenge – proved to be developmentally enlightening. Students paired off and began researching various textures and tastes of food to create the perfect breakfast burrito recipe. A preliminary cook-off determined the four final groups that would move on to the final round, The Chopped Challenge.
The Challenge mimicked ones on television with a few modifications. Students were given chefs' clothing, special ingredients for their recipes, the necessary cooking utensils, and a deadline. The eight students took the challenge seriously, not just because of a $50 prize at the end, but to have notoriety that their burrito recipe was the best in the school – bragging rights.
The Chopped Challenge was successful in teaching students the practicality of cooking, the importance of pursuing activities they love, and growing as a "chef." Mrs. Perkins pushed her students rigorously towards a meaningful learning experience that prepares them for a world beyond high school. #IAmTXEd  Moody High School