Racing Towards Success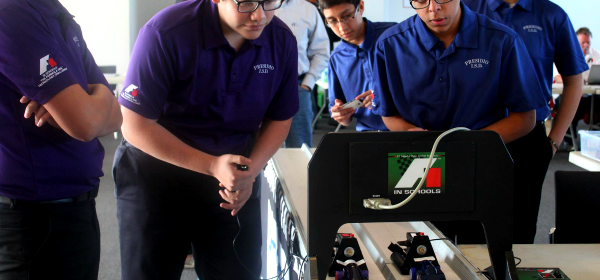 Four years ago, Presidio ISD engineering teacher Rolando Gloria was encouraged to sponsor a "F1 In Schools" Technology Challenge team. Though he knew nothing about F1, he saw the challenge as an opportunity to model a new learning process for his students. Mr. Gloria soon accepted the challenge and immediately reached out to a coach of an F1 team from Austin ISD for help, and his students began to prepare for their first competition. 
During the design process of the team's F1 car, students encountered a lot of struggles ranging from designing the actual car in Inventor, a 3D modeling software program, to testing the efficiency of air flow using Flow Design software. However, Mr. Gloria said that hands down the most difficult aspect of the first year was finding sponsorship for each of the teams. Although the school and community had limited resources, Gloria noted that because of the students' determination, they were successful in getting help from engineering faculty members at Texas Tech, who milled the F1 models the students designed and gave feedback on their portfolios. 

"My kids did an outstanding job, and they competed against other teams who raised between $16,000 and $44,000 for their F1 teams," Gloria said. In contrast, each Presidio team raised $500 and found other ways to get quality support. Of the two teams Presidio ISD brought to the F1 in Schools Technology Challenge in 2014, the El Diablo Azul team, placed third and was eligible to go to the US – Canada National F1 in Schools Technology Challenge at the Michigan International Speedway, where they won the Judges' Choice Award. Since then, the Fierce Five team got the Best in Verbal Presentation (2015), and Light Speed got third place and went to Nationals (2016).
"Believing in what my students can accomplish, giving them the proper motivation, and providing them an opportunity to do something novel were the keys to their success," said Gloria. 
#IAmTXEd
Presidio ISD