Hoppin' Around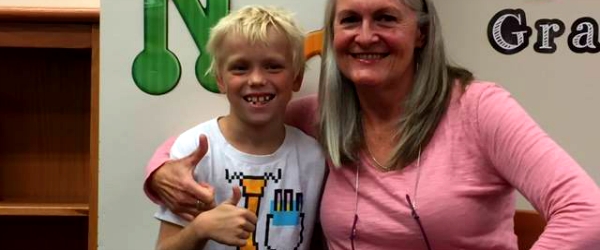 It's easy for teachers to love the high-achieving students, but sometimes the most special teachers bond with students who simply achieve, against all odds.
Carolyn Davis, a reading intervention specialist at Decatur ISD, says that one of her third-grade students, Josh Carter, is an Achiever with a capital "A." Mrs. Davis says she bonded with Josh from the first time she worked with him.
At age three, Josh lost his left leg in a lawn-mower accident, and since pre-k, Josh has navigated Young Elementary with only one leg. Despite his challenges, Josh works hard to do everything a normal third grader does, including recess, P.E., foot races (he hops!), and music. One of his first interactions with Mrs. Davis was after a hard fall at recess. Josh was tearful and other kids and teachers were unsure of what to do. Turns out a Band-Aid and Mrs. Davis's tender loving care was all Josh needed. He wiped his tears, nodded his head, and was back in action.
Since that incident, Mrs. Davis has gone out of her way to enrich and improve Josh's school experience and, in fact, life. She has researched amputees and reached out to functional adult amputees who can meet and encourage Josh. She has discovered books and other resources that can help Josh and his family learn more about amputees and people with prosthetic limbs. When Josh works on the online math program with Mrs. Davis, his proud avatar is in a wheelchair with a service dog.
Josh is a striver, an achiever and a success in the eyes of Decatur Independent School District, especially in the eyes and heart of Mrs. Davis. Decatur ISD feels proud to have them both. #IAmTXEd Decatur ISD