Beyond The Sky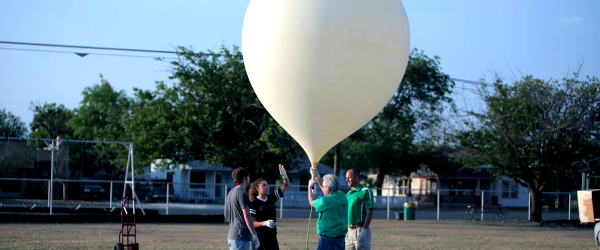 Paul McWhorter spent more than 15 years at Sandia National Labs before returning to his hometown of Eldorado, Texas to become a teacher. In addition to instructing a variety of math and engineering classes at El Dorado High School in the Schleicher County ISD, McWhorter has also helped the school develop its own Space Program.
The Eldorado Space Program consists of student engineers who design, build, and program sophisticated instrument packages and send them into space to record vast amounts of data. Journeys to the edge of space and back involve keeping live telemetry with the packages, and the team has developed an innovative technique that allows their launches to be successful.
Mr. McWhorter's classroom is anything but normal -- it is run like a high-tech startup company and is entirely centered on project-based learning. At the beginning of the year, students set a goal (with Mr. McWhorter's approval) and then spend much of the year focusing on their specific project to ensure mission success. Mr. McWhorter has very high expectations for each student and provides them with frank feedback to help them grow.
Mr. McWhorter is also using the Eldorado Space Program to share invaluable career skills with his students. By setting the space program up to use wireless communication over the Amateur Radio Band, McWhorter's goals include educating his students in the beloved art of HAM radios, as well as advancing the HAM communication infrastructure, throughout the school and community of Eldorado.
"In Mr. McWhorter's classes, there are no boundaries," said senior Chase Mertz. "The possibilities are endless. Forget about the sky, not even space is the limit for us." 
#IAmTXEd
Eldorado High School (Texas)