Banding Together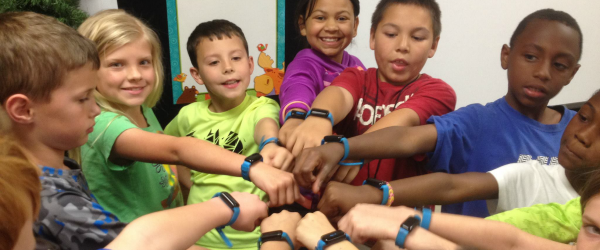 DeKalb ISD teachers Mary Orr and Crystal Davis strive to provide their third grade students at DeKalb Elementary School with learning experiences that extend beyond the classroom and allow them to impact the outside world.
As part of their lessons, the students have had opportunities to learn about new cultures and to study the games played by those cultures in other parts of the world. Orr and Davis have extended these learning opportunities to include physical fitness. Knowing that only one in four American children is getting enough physical activity each day and that almost one in four children globally is malnourished, Mrs. Orr and Mrs. Davis crafted an impressive plan to help the students make a difference in their personal lives as well help other children across the globe.
As recipients of the UNICEF Kid Power grant, Mrs. Orr and Mrs. Davis have provided their students with more than 20 power bands that track the steps the students take each day. The kids get active while wearing the power bands and earn points that unlock packets of therapeutic food, which then get delivered to severely malnourished children all over the world – so the more the kids exercise, the more food is sent to children in need.
"Not only have the students of DeKalb Elementary School learned about the importance of being physically fit, but having the bands has also taught them the importance of altruism," says Mrs. Davis.
Since beginning this journey in February 2017, the third graders have helped to save eight lives. Presley Sparks, a student in Mrs. Orr's class, says, "I have earned over 12,000 steps in a day and love knowing that I'm helping children to get food that don't have it." 
#IAmTXEd
#DISDConnect
DeKalb ISD