Aspiring To Inspire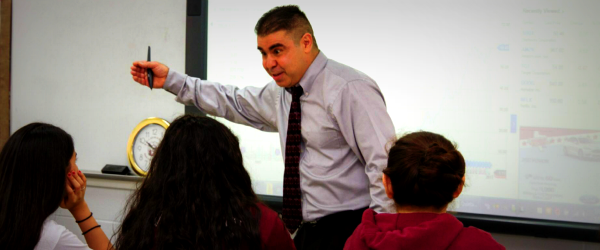 "I aspire to inspire by making learning fun." These words have fueled Pharr-San Juan-Alamo ISD (PSJA) math teacher Fabian Quintana for 27 years.
From teaching various math dual-enrollment classes to connecting with students outside the classroom, Mr. Quintana has influenced generations of students at PSJA Early College High School. Impacted by his passion for math and teaching, many of his students have left his classroom inspired to pursue careers in education – some of his current colleagues are those former students he mentored years ago. Even his own daughter Karina, this year's school valedictorian, was inspired by this passion and plans to become an educator just like her dad.
While teaching has become his lifelong career, Quintana shared that it wasn't always so. "After graduating from PSJA High School in 1987 my goal was to become a Chemical Engineer, but when my Dad got sick, I decided to stay here and give teaching a try," he said. As soon as he started teaching, he knew he had found his niche.
Mr. Quintana's hard work and dedication has not gone unnoticed, as he has been awarded numerous district-, region-, and state-level accolades and has coached his Calculator team to multiple UIL State Championships. Today, he teaches various high school dual-enrollment math classes through South Texas College, allowing students – including daughter Karina – to graduate with an associate's degree before ever leaving high school.
For Mr. Quintana, being a great teacher requires being attentive and accessible in and out of the classroom. Every year he makes it an effort to be a sponsor for his students in various UIL activities and mentors young teachers.
"I truly believe teachers should do more than just teaching," he said, smiling. "That's why I've been a mentor. We must teach our students not only the essentials of learning in a classroom, but the importance of being active in their communities and the skills to succeed in life." 
#IAmTXEd
 @PSJAISD