The Few and Far Between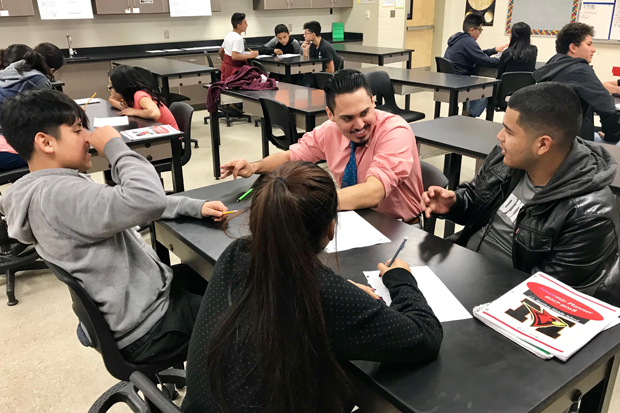 The phrase "Welcome to science, the best part of your day!" greets 8th-grade students as they enter Samuel Gonzales's science classroom at Julius L. Matthey Middle School in the Southside ISD. The heartfelt greeting is a true expression for many of his students. 
"One of the most impressive things about Gonzales is that he is only a third-year teacher," said Maribel Meza, a special education aide who works with Mr. Gonzales. "He started teaching at Matthey Middle School last year and quickly became a student favorite. His youth and inexperience were not a hindrance, as, very early in the year, he was nominated for the Teacher of the Month award, by students in his 7th-grade science classes."
This year Gonzales was promoted to teach 8th-grade science. Moving up with his students made him a sought-after teacher by many—Meza says that the ones that are with him from last year are very glad, and the ones that are not, frequently visit to let him know how much they miss him.
His classroom does not reflect the climate of a typical middle school. In fact, students who are notorious for being difficult will not disrupt his class. Instead, they pay attention and do their work – an impressive feat that is evidenced by zero written disciplinary referrals.
How does he accomplish this? For starters, through high energy. Gonzales is known to move around the classroom interacting with students and even pulls in the most passive and indifferent into his lesson. He requires a high level of participation as he calls on almost every student for answers and often makes jokes. The relaxed atmosphere puts students at ease, allowing them to enjoy his class and want to be there.   
His teaching style is that of relating the lesson to familiar concepts to this age group, incorporating simple hand signs and well thought out mnemonics to help them remember difficult lessons. This simplistic approach to teaching helps the students he has been tasked to teach.   
Although the students may forget the science lessons that they learned, the sentiment that Gonzales was their favorite teacher will stick with them well into adulthood. If you ask them, they will tell you that teachers like him are few and far between.
#IAmTXEd